The frames worked beautifully. So please pass on our total and enthusiastic satisfaction! I'm already planning on how to reuse these for a future show.
Thank you so much for the great service and a great product. We've had this bus scroll stored for almost 2 years b/c we couldn't find the "right" hanging solution. This couldn't be more perfect!!
Hi, Just wanted to show you how great our posters look.
Thanks for the help and super fast shipping!
They are just perfect for my needs, and I commend you on the cleverly elegant design. We love them.
My first posterhanger hangs at home, providing me inspiration. My second posterhanger now hangs at the Root Division gallery in San Francisco
The show looked terrific and it simply would not have been possible for me to mount a show of this scale without your Posterhangers.
Thanks for your great customer service in handling this fluid and time-critical situation. I have been a repeat customer and supporter of your products, and will certainly continue to do so.
John R. Snell
Photographer
Hang posters simply and affordably while maintaining the integrity of your print.
Minimal Design
Made of aluminum, Posterhanger gently attaches to the top and bottom edge of your print, providing you with an elegant yet neutral hanging solution. A pre-drilled hole, centered on the back of the top bar, provides for a perfectly balanced frame when hanging on the included nail.  See How It Works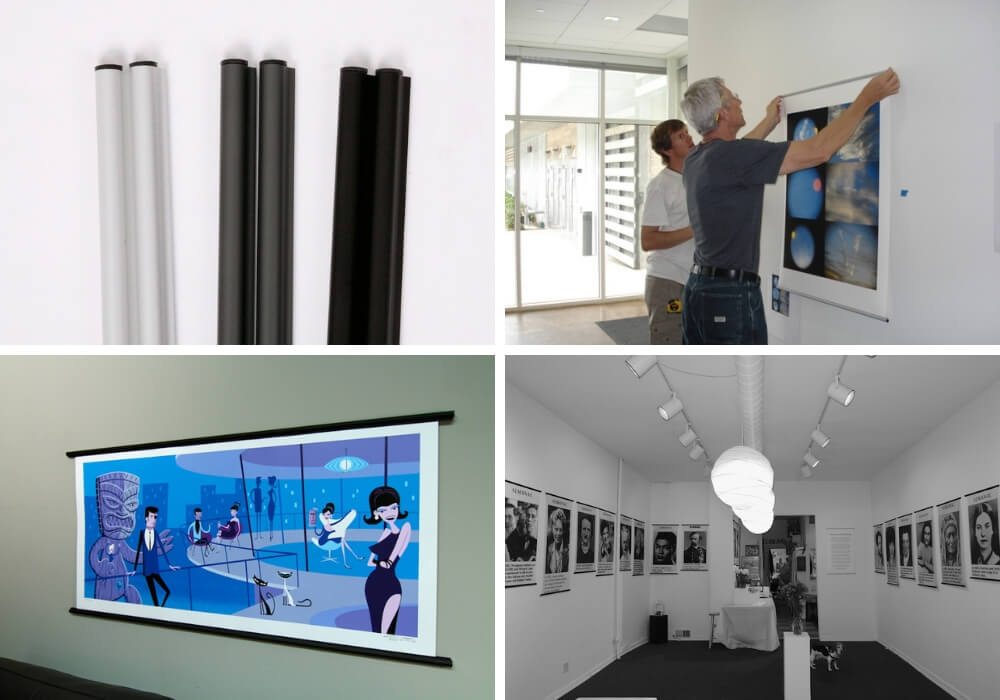 Maximum Function
Posterhanger is used all over the world by artists, photographers, interior decorators, universities, students, businesses and more. Hang posters, prints, photos and more. From 12" up to 144" inches wide.
BUY NOW